If you're new to foraging for mushrooms, it can be hard to distinguish between the different types. Luckily, modern mushroom foragers have an excellent tool: mushroom identification apps!
There are several wonderful mushroom identifiers out there, and we're sharing a few of our favorites with you.
Keep reading for the best apps, plus a couple of other ways you can identify mushrooms if apps aren't for you.
The Best Mushroom Identification Apps
Before we get into discussing the apps, let's talk about cost. Should you pay for a mushroom identification app? It depends.
Most of the apps on this list come with both paid and free features. Naturally, the more information you want from the app, the more likely you're going to have to pay for it.
If you're a casual hiker or forager who has a general curiosity about mushrooms, the free version of any of these apps will probably give you sufficient information. 
However, if you're interested in identifying a very specific type of mushroom or want to know if a mushroom is poisonous, you'll probably need to fork over some cash for advanced features. 
Here are seven of the best mushroom identification apps (in no particular order):
1. Book of Mushrooms
The Book of Mushrooms app is exclusively available for Android users. One of the best free mushroom identification apps, it can help you identify over 250 mushroom species and contains over 1400 mushroom photos.
Like any good "book," Book of Mushrooms contains lots of helpful articles. It also provides you with a calendar so you know which mushrooms are fruiting when. We like that this app has a search feature to make learning easy. 
It's one of the most popular mushroom apps on Google Play—partly because it's free—and folks seem to agree that it's good for satisfying broad curiosities about mushrooms.
That said, if you want more in-depth information, or a more comprehensive list of mushrooms to reference, this likely isn't the app for you.
2. Mushrooms
As you can tell by the name, this Android app is no-frills and straight to the point.
If you're looking for the mushroom side of Wikipedia in app form, this is a great download. It helps you identify which mushrooms you can eat and which are poisonous. 
It does have some search functionalities, but this app is more suited to casual reading than mushroom identification.
It's also light on photographs, but it is free, so that's a tradeoff you may be okay with.
3. Mushroom Identify – Automatic Picture Recognition
Another Android app, Mushroom Identify is great for visual learners. This fun app allows you to take a photo of any mushroom you come across and get an ID within seconds.
Reviewers note that it's relatively accurate, and when it's not, the list of look-alikes it provides you with will typically help you identify the correct mushroom.
Mushroom Identify has a robust search feature and tons of articles to help you identify mushrooms, but if you want to get a little more niche, you'll have to pay for it.
To access some of the more advanced mushroom filters, there is a paywall.
4. Mushroom LITE – Field Guide
This app, available for iOS users, has over 2,000 high-quality images to help you identify the mushrooms you find while foraging.
We like that each image comes with an in-depth description of the mushroom, plus photos of the mushroom from different angles, so you can be sure you're identifying it correctly.
One thing that makes this app unique? The information was compiled by a mycology consultant and the author of many mushroom books, Dr. Gerhardt.
You can also use this app to quiz yourself on mushroom species, which is a fun way to build your fungus knowledge.
5. Shroomify
The first app on our list that's available for both Android and iOS, Shroomify helps you identify a mushroom by selecting its features.
It also has a fairly robust search feature if you prefer to look your mushrooms up that way, and you can opt to only display results that feature mushrooms currently fruiting in your area.
With over 1000 images, Shroomify is another excellent app for those mushroom hunters who learn best visually.
6. Picture Mushroom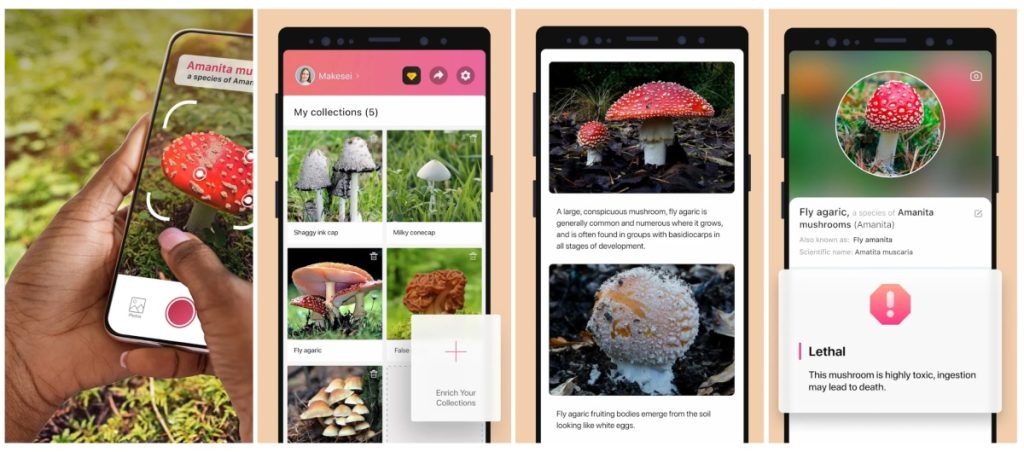 The Picture Mushroom app is also available for both Android and iOS.
As the name implies, the main function of Picture Mushroom is to help you identify a mushroom after you take a photo of it. (You can also upload photos you took earlier.)
Most users find this Picture Mushroom easy to use and accurate. Like most of these apps, it's more popular among casual mushroom observers than serious mycologists.
We like that in addition to identifying the mushroom for you, this app will also provide you with lots of helpful information to help you get to know your chosen fungus better.
7. Mushroom – Mushtool
The final app on our list is another Android exclusive. Mushtool claims to be an app for both mushroom amateurs and professionals alike.
This one has an awesome search feature that allows you to search by colors, species, name, size, and more.
The free version contains about 50 different mushroom varieties before you'll need to pay for more information.
Many folks like the Mushtool app for the included quiz feature, which helps you get to know and identify dozens of different mushrooms.
On top of that, the app includes several informative mushroom articles and recipes.
Are Mushroom Apps Reliable?
The answer to this question depends on your definition of "reliable." Most of the time, you can trust a mushroom Identification app to correctly identify common types of mushrooms.
Many of these apps also do a decent job of helping you decipher between which types of mushrooms are edible and which are not. 
Beyond these two basic functions, the apps can get a little dicier.
If you're trying to use them to identify mushrooms that are not very common or mushrooms that look similar to other types of mushrooms, you can't necessarily trust these apps to identify your mushroom correctly. 
Many of these apps also rely on you being able to get a high-quality photo of the mushroom. So if you're unable to do that, your results might not be accurate.
Mushroom identification apps are convenient. And they are an excellent tool for novice mushroom foragers who want to orient themselves to the world of mushrooms.
But beyond that, we think there are better ways to learn about and identify mushrooms.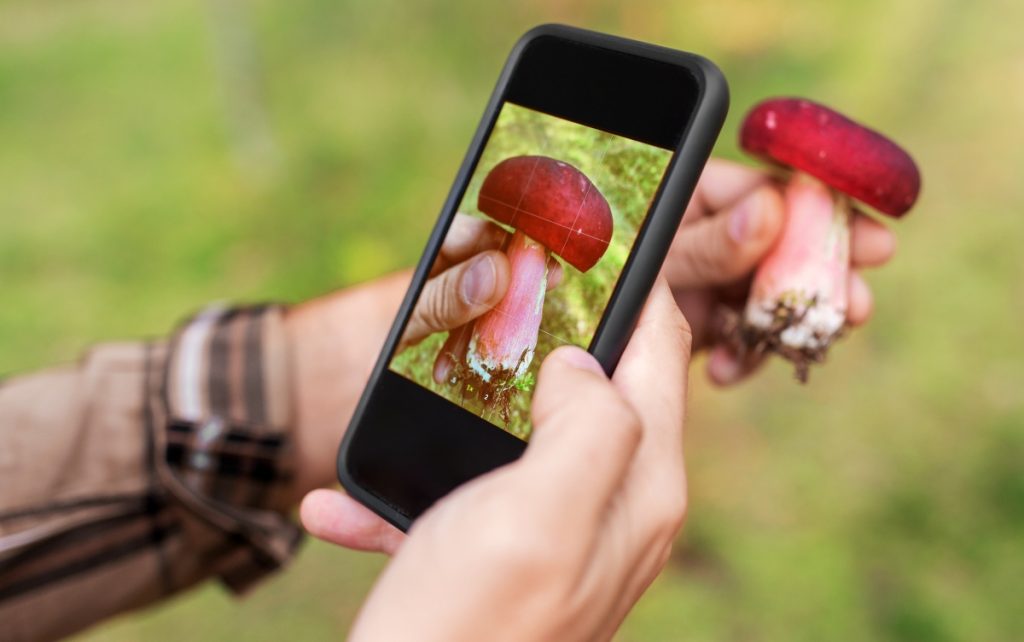 Other Ways to Identify + Learn About Mushrooms
At the end of the day, it's difficult to fit the vast amount of information there is to know about mushrooms into one app, so here are some other tools we recommend:
Mushroom Identification Books
There are several good mushroom ID books out there that you can rely on to have the correct information and never glitch out on you.
We like "Mushrooms Demystified" by David Aurora because it has information on over 2,000 species of mushrooms.
It's organized by a detailed dichotomous key, so you'll have a much better chance of finding the exact mushroom you're searching for than if you plugged a photo into an app.
The National Audubon Society's "Field Guide to Mushrooms" is also an excellent, time-tested resource that's organized by photos, so it's excellent for visual learners.
Social Media
Modern mushroom foragers are in luck. Today, you have a whole network of mushroom pros at your fingertips thanks to the power of social media.
Sites like Reddit and Facebook are excellent places to ask questions of folks who have years of experience identifying mushrooms.
There are even Facebook groups devoted to identifying wild mushrooms. Here are a few popular ones:
Some of these groups require you to join before you ask questions, while some of them you can post in immediately.
Final Thoughts
For people who are new to mushroom foraging (or who simply see mushrooms out on their daily walks), mushroom identification apps can be a fun and interactive way to learn about what they see.
However, if you're serious about mushroom identification (or have a lot invested in making sure you've identified the mushroom correctly), it's a good idea to use a reputable book or to confer with the pros online.
If you'd like to learn more about growing your own mushrooms, you can visit our Mushroom Growing Hub for ideas and inspiration