Giving up meat and dairy doesn't mean that you have to settle for eating bland dishes or raw vegetables.

In this post, I'm sharing 25 of my all-time favorite vegan mushroom recipes.
Mushrooms make a great alternative to meat. They have a firm texture similar to a piece of beef or chicken. And the amino acids that they contain give them a nice savory flavor reminiscent of meat as well.
Portobello mushrooms are exceptionally delicious as a meat substitute, and are used in everything from veggie burgers to meatballs.
Vegan food isn't just eating salads. After looking over the wide varieties of recipes I've laid out below, hopefully, you'll be convinced that you can eat a vegan diet without having to give up any of your favorite dishes.

All it takes is some clever substitutions in place of the usual animal products in many recipes, and mushrooms are an excellent place to start.
In this article I'll show you all kinds of vegan recipes ranging from burgers, gravy, crepes, soups, hummus, and more. All packed full of delicious mushroom tastes!
Creamy Vegan Mushroom Lasagna
Photo and recipe from: https://www.veganricha.com/2019/03/creamy-vegan-mushroom-lasagna.html
If you love a standard lasagna with tomato sauce, give this one with a creamy garlic sauce a try to mix things up.
This pasta is packed full of three whole portobello mushrooms, plus 4 ounces (about 110 grams) of healthy spinach. It can also be adapted for a nut-free and gluten-free alternative if needed as well.
It will definitely be the creamiest lasagna you ever try, and might become your new favorite!
Vegan Mushroom and Walnut Pate
Photo and recipe from: https://itdoesnttastelikechicken.com/vegan-mushroom-walnut-pate/
Fans of dips and spreads will love this pate as an addition to their crackers and bread. The pan toasted walnuts go great with the taste of sauteed mushrooms.
With some hints of rosemary, garlic, and parsley flavors for extra aroma as well.
Best of all, this recipe only has nine ingredients. So it's easy to throw together for impromptu gatherings, as well as made ahead of time. It makes a perfect appetizer for any kind of get-together, and is sure to be a hit.
Feel free to mix the recipe up and substitute other mushrooms in place of button mushrooms. Oyster or shiitake mushrooms will each add their own layer of depth to the dish.
Mushroom Ceviche
Photo and recipe from: https://www.onegreenplanet.org/vegan-recipe/mushroom-ceviche-vegan/
Ceviche (pronounced "se-vee-chay") is a recipe that's commonly made using raw fish. This unique recipe keeps the basic idea of ceviche, but offers a vegan alternative that makes use of mushrooms instead.
This is a great recipe for vegans and non-vegans alike. Personally I'm not a fan of the texture of raw fish, so I would gladly choose this dish over the real thing!
You can adjust the quantity of jalapeno pepper used in this recipe to your liking, if you would prefer things to be more or less spicy.
I know that some people really don't like cilantro (coriander) either, so you may want to consider substituting a different herb like parsley or dill instead.
The best part? There's absolutely no cooking required!
Although you will need to plan ahead a bit. The mushrooms need to cure in lemon and lime juice overnight ahead of time.
Vegan Portobello Mushroom Stirfry
Photo and recipe from: https://minimalistbaker.com/30-minute-portobello-mushroom-stir-fry/
Stirfries are a flexible dish where you can mix and match ingredients to your heart's content. It's also a great way to use up some leftover veggies in your fridge before they spoil.
It's a quick dish to serve up, and simple too. Just add some rice or quinoa to plate it up with, and you've got a full and hearty meal.
The thick and juicy portobello mushrooms add a great texture to the recipe, and the tamari or soy sauce really brings out the savory flavor of the mushrooms even more.
The recipe calls for garlic, red bell pepper, green onion, and broccolini. But that's just a starting point. You can mix and match to find out what you like best.
Feel free to experiment!
Portobello Mushroom Bruschetta
Photo and recipe from: https://www.contentednesscooking.com/portobello-mushroom-bruschetta/
For those that love bruschetta but are trying to cut back on carbs or gluten, this recipe is a real lifesaver. It offers that same classic bruschetta taste of freshly chopped tomatoes and basil, just without the bread.
True to the original, this recipe is simple. It has just five ingredients and takes just a couple of steps to make.
Grill up your mushrooms, chop your tomatoes, garlic, and basil, and combine them both together.
Topping this recipe with some balsamic vinegar really adds some class to it.
And trust me, it tastes as good as it looks!
Chop your tomatoes and basil more coarsely for a more rustic Italian feel, or cut into smaller pieces to minimize ingredients spilling out.
Mushroom Hummus
Photo and recipe from: https://www.thehopelesshousewife.com/?hhw_recipes=mushroom-hummus
This hummus keeps the basics like garbanzo beans, tahini, and olive oil that you would expect. But it adds another layer of depth to the dish by combining in a few cups of portabello mushrooms as well.
It might be a great way to try and incorporate some fungi into the diet of people in your life that normally dislike mushrooms. For those that dislike mushrooms, the texture tends to be the biggest sticking point.
So they might enjoy this hummus, especially if you dice up the pieces of mushroom nice and small or incorporate it into the spread itself.
The portobello really give a nice rich flavor to an otherwise plain hummus. If you're feeling adventurous, you might even be inclined to mix in some chili flakes to give a bit of extra heat too.
King Oyster Mushroom Scallops With Mint-Pea Puree
Photo and recipe from: https://www.whoneedssalad.com/king-oyster-mushroom-scallops-with-mint-pea-puree/
When sliced the right way, these king oyster mushrooms really do look a lot like pan-seared scallops. They even have a similar slightly-chewy texture, but without the seafood taste.
They look very fancy and make a great hors d'oeuvre for your parties. Your guests will never know that they're actually very straightforward to make.
Pairing the mashed peas with the mushrooms is a great choice, and the mint flavor adds a nice accent too.
That part of the recipe is super easy, since most of the ingredients just go into a food processor.
When you're shopping for your mushrooms, just be sure to pick ones with the largest stalks possible. Smaller ones will work, but they won't look and feel like a real scallop.
This recipe only uses the stalks of the king oyster mushroom. But don't throw the caps away! You can use them for another recipe later.
Grilled Mushroom Skewers
Photo and recipe from: https://www.foodnetwork.com/recipes/food-network-kitchen/grilled-mushroom-skewers-3361696
This recipe takes me back to my childhood, when my dad would skewer different kinds of vegetables and meats and grill them for dinner often in the summer.
This vegan recipe delivers that same great grilled taste that I remember.
It's a simple recipe. Aside from button or cremini mushrooms, all you need are fresh thyme leaves, garlic, soy sauce, salt, and butter.
The star of this recipe is really the sauce. Even people who aren't normally a fan of mushrooms are likely to enjoy it.
You can also substitute oyster mushrooms for cremini mushrooms in this recipe. Just be aware that since they're thinner, you'll need to turn them more frequently and cook over a lower heat.
There's just one safety tip to keep in mind. Be sure to soap your skewers in water for twenty minutes before cooking, to prevent them from burning. Or alternatively you can use metal skewers instead.
I like to cook these over a charcoal grill to really maximize the flavor.
Savory Mushroom Oats
Photo and recipe from: https://www.onegreenplanet.org/vegan-recipe/savory-mushroom-oats-gluten-free/
I must admit that I was hesitant at the idea of combining mushrooms with oats when I first heard of this.
For all of my life, I only combined oats with things like fresh fruit or brown sugar. Never anything savory.
Well, it seems that I was really missing out, because this recipe is delicious! It makes a really nice meal for either lunch or dinner, or even breakfast, since it's relatively quick to make.
Just like any other bowl of oats, it's the perfect meal to warm you up on a cold day.
I would recommend adding the nutritional yeast to this recipe as listed. It gives an extra savory flavor to the dish, plus additional nutrition benefits.
But if you don't have access to nutritional yeast or don't enjoy it, you can omit it.
Thai Mushroom Salad
Photo and recipe from: https://www.platingsandpairings.com/30-minute-thai-mushroom-salad-vegan/
This isn't your typical salad. Sure, it has lettuce. But it's also packed with all sorts of interesting flavors that you probably aren't used to.
It has spice from red chile flakes and jalapeno, sweetness from the brown sugar, savory taste from the mushrooms and soy sauce, plus acidity from the lime and lemongrass.
And to top it all off, the toasted rice powder really gives it a satisfying crunch. Overall this Thai-inspired dish has one of the most complex flavor palettes of any salad I've ever tried, and I loved it!
It does take a little longer to put together than a plain salad. About twenty minutes of prep time, and ten minutes of cooking. It's so worth it though!
Pairs great with a dry rosé or riesling wine.
Vegan Cream of Mushroom Soup
Photo and recipe from: https://lovingitvegan.com/vegan-cream-of-mushroom-soup/
Can you make a delicious cream of mushroom soup without the cream? It turns out that the answer to that is a definite yes!
There are plenty of great vegan soups that you can make without any dairy products, or chicken or beef broth.
This recipe combines white button, cremini, and portobello mushrooms. But feel free to use all three or just one of them, depending on your preference and what you've got available locally.
The creaminess of this recipe comes from the coconut milk. I don't want to say it's indistinguishable from regular cream. But it's a nice rich flavor, and very close.
This recipe recommends leaving large chunks of mushroom for extra texture. But if you're not a fan, you can always blend them up using an immersion blender.
Vegan Mushroom Bean Burger
Photo and recipe from: https://www.thespruceeats.com/vegan-mushroom-bean-burger-recipe-3378623
Mushrooms tend to be a core component of most veggie burgers. After all, mushrooms offer quite a similar texture and savory taste to beef when cooked.
At their most basic, you can make a mushroom burger by just grilling up a large portobello cap and putting it on a bun in place of a regular burger.
But this recipe is a bit more nuanced and combines finely diced mushrooms with other ingredients into a patty.
Be sure to make your mushroom burgers thick enough. Aim for about an inch thick.
Otherwise, they might start to crumble and fall apart. But if you go too thick, it will become hard to fully cook them all the way through too.
Since it doesn't use breadcrumbs, this recipe is totally gluten-free, as long as you pair it with some gluten-free buns as well.
Vegan Crab Cakes
Photo and recipe from: https://www.brownvegan.com/blog/2012/10/11/vegan-crab-cakes.html
Here's another simulated seafood dish, made with exclusively vegan ingredients.
If you grew up on the coast, then you were probably raised eating crab cakes and lots of other seafood.
Well, this recipe allows you to enjoy those old familiar tastes, but leaves the crabs in the ocean where they belong!
Vegan crab cakes will never be a perfect match for the original. But I agree with the recipe author that these do a great job of mimicking those same flavors and textures you'd expect.
With over twenty ingredients, this recipe is a bit more complicated than most of the others on my list. But if you're really craving some crab cakes, this vegan alternative is the way to go.
Mushroom Tacos
Photo and recipe from: https://www.halfbakedharvest.com/asada-mushroom-tacos-with-lime-smashed-avocado/
I feel like a taco really needs to offer something of substance when you bite in. And the thick, juicy strips of portobello mushroom in this taco recipe definitely deliver in that regard.
And the mashed avocado provides a beautifully rich spread to keep everything in place.
The pineapple salsa gives these tacos a nice fruity twist. Admittedly it's not something I'd normally expect from a taco, but it's a nice change of pace!
Just be aware that for some reason, this recipe includes crumbled feta in their salsa. To make this recipe vegan, you can just omit the cheese and it will still turn out great.
Like with other Mexican-inspired vegan recipes, feel free to also adjust the amount of chipotle pepper, smoked paprika, and cilantro to your own tastes.
Vegetable Stuffed Portobello Mushrooms
Photo and recipe from: https://www.tasteloveandnourish.com/vegetable-stuffed-portabella-mushrooms/
This recipe isn't strictly vegan as-is. But it can easily be made vegan by either leaving out the cheese, or opting to use a vegan cheese instead. You can also use gluten-free breadcrumbs to make it gluten free as well.
Stuffing portobello mushrooms is one of my go-to ways of cooking them. If you enjoy stuffed peppers, then I'd highly recommend giving them a try!
The zucchini, sun dried tomatoes, onion, spinach, and red pepper in this dish are a great way to sneak some additional vegetables into your family's diet.
In my opinion these make a great appetizer. But unless you're making a lot of them, you'll probably need a pasta dish or at least a salad to go along with them to round out your meal.
Vegan Mushroom Paella
Photo and recipe from: https://www.connoisseurusveg.com/vegan-paella/
Paella (pronounced "pie-ay-ah") is a very versatile dish that can be done about a hundred different ways. This version omits the popular meat and seafood options to keep it completely vegan.
At the recipe's base is tender saffron-infused rice. Beyond that, you can really mix in any kinds of mushrooms and vegetables that you like.
The mushrooms are a good juicy alternative for the shrimp and other non-vegan ingredients that are commonly included when making paella
Paella is traditionally made with bomba rice, but this recipe uses arborio rice. It's normally used to make risotto and is a bit easier to find.
This recipe makes a lot of food. Especially before the mushrooms and veggies have a chance to give off some of their moisture content, you might have trouble fitting it into all but the largest skillets.
So you might need to scale the recipe back or cook it in multiple batches to avoid spilling ingredients all over your stovetop.
Mushrooms On Toast
Photo and recipe from: https://holycowvegan.net/mushrooms-on-sourdough-toast-15-minute-breakfast-recipe/
As a change of pace, why not try some mushrooms on toast in place of the usual beans on toast? You can make this recipe in under ten minutes, for a quick and easy breakfast.
Or on the weekend, you can take a bit more time and make portobello mushrooms sauteed in herbs and wine for a truly exquisite taste.
Just like bruschetta, this recipe is all about simplicity. So you should get a really good sourdough bread and some fresh mushrooms, which will be the stars of the show.
This recipe calls for cashew milk. But for a nut-free alternative, you can use soy, hemp, or rice milk instead.
Easy Vegan Mushroom Stroganoff
Photo and recipe from: https://itdoesnttastelikechicken.com/easy-vegan-mushroom-stroganoff/
Beef stroganoff is yet another one of those warm comfort foods that I remember fondly from my childhood. This vegan alternative is just what I need during the cold winter months.
Plus it's fairly straightforward to make, and should be ready in about 25 minutes.
This dish is just as good for a romantic meal as it is for a comfort food on a lazy day.
It's worth noting that stroganoff traditionally uses egg noodles. To make it vegan, this recipe uses tagliatelle. You can swap it out for other broad types of pasta if you prefer, or even serve it over rice.
Top it with some vegan parmesan and garnish it with parsley for a nice finishing touch.
Vegan Sticky Apricot Mushrooms
Photo and recipe from: https://www.rabbitandwolves.com/vegan-sticky-apricot-mushrooms/
The key ingredient of this recipe is apricot jam, which creates the signature sticky sauce. Don't worry about it being overly sweet though.
I found the flavor of the apricot was perfectly balanced by the acidity of the orange zest and the spicy chili flakes.
It reminds me a little bit of what I remember Peking duck tasting like. But of course, completely vegan! Serve these mushrooms on a bed of warm rice.
It's seriously one of the best sauces I've ever put on mushrooms. If you don't use all of the marinade, I'd recommend pouring it on top of your rice. It's just too good to let a drop go to waste!
If you have any leftovers, you might want to try using them to make sushi!
Vegan Spinach and Mushroom Crepes With Almond Cheese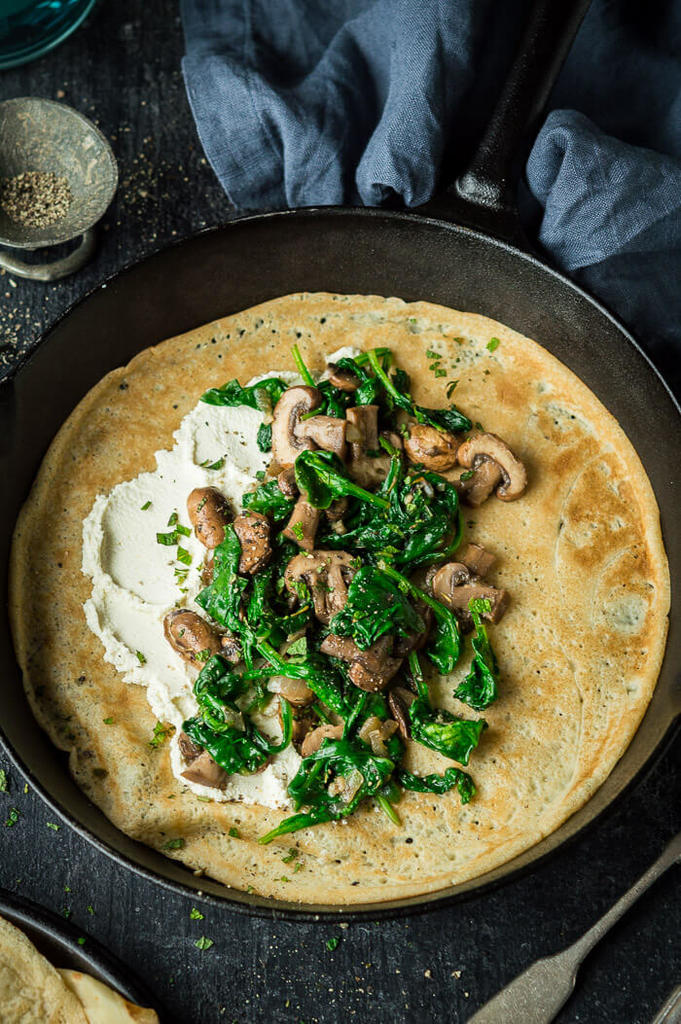 Photo and recipe from: https://domesticgothess.com/blog/2019/07/13/spinach-mushroom-crepes/
If you're worried that you're not talented enough in the kitchen to take on crepes, have no fear. This recipe is about as quick and easy as making pancakes.
The key to making this recipe is an almond based vegan cheese, which the author also has a separate recipe for. It has a consistency similar to feta.
I've had some iffy store-bought vegan cheese before, but this one is quite good. It's creamy, rich, salty, and tangy.
Once you've made your vegan cheese, the rest of this recipe is quite straightforward. A
nd the good news is that your cheese will stay good in the fridge for about a week, so you can whip some up whenever you've got a few extra minutes.
Just like with the oats I described above, I'm not normally a fan of savory crepes, and I'll usually opt for sweeter fillings. But these ones really surprised me with its garlicky chestnut mushrooms.
Definitely worth a try, and it's a substantial enough meal to use for a dinner during the week.
Savory Mushroom Tartlets
Photo and recipe from: https://www.onegreenplanet.org/vegan-recipe/savory-mushroom-tartlets/
Who doesn't love a warm, flaky tartlet, regardless of what it's filled with?
These ones have a savory filling made of mushrooms, onion, vegan cream cheese, and vegan sour cream. With just a hint of thyme.
Finding a vegan pie crust can be difficult. So luckily this recipe includes a recipe for the crust, and it only requires three ingredients.
These tartlets freeze really well, so you can make a big batch of them in advance and then keep them frozen until you need them.
When you're ready to cook them up, just thaw them for 20 or 30 minutes at room temperature, and then pop them in the oven for 10 minutes.
Mushroom Brown Rice Pilaf
Photo and recipe from: https://www.oatmealwithafork.com/mushroom-brown-rice-pilaf-vegan-gluten-free/
Here's another recipe that's naturally gluten-free without any special accommodations.
This might look like a rather plain rice dish. But don't let the appearance fool you, it's packed full of flavor!
The bay leaf gives a nice flavor that you don't see in many other dishes that use rice or mushroom.
This is a pretty filling meal on its own. But if you want to mix things up a bit, you might try having some grilled strips of portobello mushroom on the side with it.
Wild Mushroom Ragu With Creamy Polenta
Photo and recipe from: https://www.connoisseurusveg.com/wild-mushroom-ragu-creamy-polenta/
When I think of a ragu sauce, usually pasta is the first thing that comes to mind. But this one actually pairs really well with the recommended creamy polenta.
Although I suppose you could experiment and try it with pasta as well.
The herb-filled red wine tomato sauce will leave you feeling warm, full, and happy. The oregano and rosemary really give this recipe a nice Italian feel.
This recipe includes the ingredients and steps needed to make your own polenta, although you can also buy it pre-made as well.
Many storebought polentas are dairy-free, but you should read the labels to make sure, if you want to keep things strictly vegan.
Vegan Mushroom Make-Ahead Gravy
Photo and recipe from: https://cooking.nytimes.com/recipes/1017760-vegan-mushroom-make-ahead-gravy
This gravy can be stored in the fridge for up to five days and reheated before serving whenever you need it. It's so good that many of your meat-eating guests might not even question it as a substitute!
It features caramelized mushrooms and a hint of soy sauce.
A key part of this recipe is using a high-quality vegetable stock. Either one that you buy or make yourself.
Vegan Mushroom Wellington
Photo and recipe from: https://www.deliciouseveryday.com/mushroom-wellington/
With its flaky scored pastry, this vegan mushroom wellington might be the fanciest looking item on the list. To get something this impressive also takes some work, and this recipe will take you about an hour to reproduce.
It's basically what you'd expect from a classic beef wellington. Except instead of beef, it's packed full of meaty portobello mushrooms.
The secret to making this great vegan mushroom wellington is to make sure that your filling is completely cold before you try to wrap it in your vegan puff pastry.
This recipe even includes a vegan egg wash to give your wellington that crisp golden-brown exterior you expect.
If you need a side dish to pair it with, may I recommend some crispy roast potatoes? Just be sure to time your cooking well.
This pastry is best eaten right away. Otherwise, the mushrooms still start to soften the pastry as it cools and the juices get soaked up.
Conclusion
After looking through these recipes, I hope you'll see that it can be easy to eat a vegan diet without having to really sacrifice or give anything up.
You might want to live a vegan lifestyle for ethical, environmental, or health reasons. Or you may just want to do it to help support a loved one who is switching to a vegetarian or vegan diet.
Whatever the reason, you can still have your burgers, pizza, ceviche, pate, and other favorite foods. All it takes is a few tweaks to the old recipes you know and love.
Add vegan-friendly replacement ingredients, and in many cases you may not even be able to tell the difference!
Substituting mushrooms for meat in your diet is a great place to start. Mushrooms offer a similar taste and texture and they're low carb, making them keto-friendly.
Plus they contain B vitamins, amino acids, and other nutrition abundant in meat that's more difficult to get from plants. You can read more about health benefits of mushrooms here.
With the 25 recipes above, you should be well on your way to finding a few favorite vegan mushroom recipes that you can cook up each week.
If you couldn't find the right recipe for you here, check these 30 Of The Best Mushroom Recipe Ideas or check Oyster Mushroom Recipes to learn more ways of cooking mushrooms.
If you are still have questions or want to learn more about mushrooms read these articles: