Mushrooms are a delicious source of healthy nutrients, and humans have used them for thousands of years for their taste and health benefits.
People use the rich, earthy flavors of mushrooms to enhance various dishes. They also make an excellent alternative protein source for vegetarians and vegans.
But, you may be wondering, "Are mushrooms keto approved?"
In this article, we answer the question, "are mushrooms keto?" We also look at the carbs in mushrooms and the best types of mushrooms for a keto diet.
But before we get to that, let's have a quick look at what keto is.
What is Keto?
Keto is short for ketogenic, which is a type of diet. A ketogenic or keto diet is a low-carb, high-fat diet that includes moderate amounts of protein.
The keto diet replaces carbohydrates with fat and puts the body into a metabolic state called ketosis. In this state, your body burns fat for energy rather than glucose.
The keto diet originated as a way to help manage epileptic seizures in children. But now, people most often use this popular diet for weight loss and to help with type 2 diabetes.
To maintain a state of ketosis, most people on a keto diet need to limit their total daily carbohydrate intake to less than 1.76 ounces (50 grams) a day.
It's helpful to know the carb content of your favorite foods, including delicious and versatile mushrooms.
Many people looking for tasty, nutritious foods they can eat as part of a keto diet wonder, "Are mushrooms okay on keto?"
Are Mushrooms Keto-Friendly?
Yes, mushrooms are keto-friendly and a great way to add more nutrition and fiber to a keto diet.
What makes mushrooms keto-friendly is that they're low in net carbohydrates, allowing people to include them in their meals without going over their daily carb limit.
Mushrooms are not only low in carbohydrates, calories and fat. But also high in vitamins, minerals, and protein, making them the perfect addition to any keto meal.
You can safely enjoy several types of mushrooms while on a keto diet.
Are mushrooms good for keto?
Yes, mushrooms are good for keto and one of the healthiest low-carb foods you can eat on a keto diet.
Let's look at some of the nutritional and health benefits of including mushrooms in a keto diet.
Nutritional Value of Mushrooms
White button mushrooms are some of the most commonly available mushrooms and make up over 40 percent of mushroom production worldwide.
People often refer to mushrooms as "functional foods" as they have potentially positive effects beyond basic nutrition.
They're low in sodium, cholesterol, fat and carbohydrates and perfect for use as part of your keto diet.
Here's the nutritional profile of one cup of raw white button mushrooms:
20 calories
0 grams of fat
3 grams of protein
1 gram of fiber
23% daily value of vitamin B2 (Riboflavin)
17% daily value of vitamin B3 (Niacin)
14% daily value of vitamin B5 (Pantothenic Acid)
13% daily value of selenium
13% daily value of copper
9% daily value of potassium
8% daily value of phosphorus
Most edible mushrooms have a similar nutritional profile, regardless of their shape, size, or color.
Health Benefits of Mushrooms
Mushrooms have numerous health benefits including the following:
Additionally, Mushrooms are a good source of dietary fiber that encourages healthy digestion and helps prevent diabetes.
They're also a rich source of potassium that helps regulate blood pressure, decreasing the risk of hypertension and cardiovascular disease.
Eating mushrooms provides several health benefits, making them one of the most perfect, low-carb vegetables for a keto diet.
Which brings us to the next important question, "What types of mushrooms are allowed on a keto diet?"
The Best Types of Mushrooms For a Keto Diet
All types of mushrooms are allowed on a keto diet, but some have a slightly lower carb count than others, making them more popular for keto.
We don't digest fiber, so it's often not included when calculating the carb count for keto. The carb values of the mushrooms below are in net carbs, which is total carbs minus fiber.
Here are some of the best types of mushrooms for a keto diet:
White or Button Mushrooms
White or button mushrooms are the most used mushrooms worldwide, and their low carb count makes them perfect for keto.
If you compare the net carbs in a 3.5oz (100g) serving of these mushrooms to the net carbs in zucchini, another healthy keto-friendly food, they're the same.
Raw white mushrooms have 0.08oz (2.3g) of net carbs per 3.5oz (100g) serving.
Morel Mushrooms
People sometimes describe the morel mushroom's unique flavor as nutty or woodsy, and they have a firm, meaty texture.
Morels are very difficult to cultivate, and people most often forage for them in the wild, making them some of the most sought-after mushrooms in the world.
These special mushrooms would make a tasty treat for anyone on a keto diet as they have a low carb count.
Raw morel mushrooms have 0.08oz (2.3g) of net carbs per 3.5oz (100g) serving.
Portobello Mushrooms
When you leave a button mushroom to fully mature, it develops a large brown cap and stronger flavors and becomes a portobello mushroom.
Portobello mushrooms, also sometimes marketed as portabella mushrooms, are perfect for stuffing.
Try them stuffed with keto-friendly ingredients like cream cheese, shredded cheddar, or bacon for a decadent low-carb keto treat.
Raw portobello mushrooms have 0.09oz (2.6g) of net carbs per 3.5oz (100g) serving.
Chanterelle Mushrooms
Chanterelle mushrooms are some of the world's most popular mushrooms, and chefs prize them for their taste, color and texture.
Chanterelles are chewy with a velvety feel. They have an earthy flavor and can taste a bit like black pepper.
Cooking accentuates their flavors, and they're a great addition to soups, sauces, quiches and sautees.
Raw chanterelle mushrooms have 0.11oz (3.1g) of net carbs per 3.5oz (100g) serving.
Mushrooms You Can Enjoy in Moderation on a Keto Diet
The delicious mushrooms below are still great for a keto diet but have slightly higher carb counts, although most still have fewer carbs than onions.
You'll need to be careful with your quantities to make sure you stay under your daily carb limit, or perhaps try using mushrooms instead of onions to flavor a dish.
Compare the net carbs in a 3.5oz (100g) serving of the mushrooms below to the net carbs in onions, which is 0.17oz (4.8g).
Add flavor and nutrients to your meals with small portions of these delicious mushrooms:
Cremini Mushrooms
Cremini mushrooms are the same family as button or portobello mushrooms but harvested at a different stage, fitting between the two.
You could say that button mushrooms are baby cremini mushrooms and portobello mushrooms are mature cremini mushrooms.
Cremini mushrooms are mild but have a slightly bolder taste than button mushrooms and a similar delicate texture.
Raw cremini mushrooms have 0.13oz (3.7g) of net carbs per 3.5oz (100g) serving.
Oyster Mushrooms
Oyster mushrooms are one of the most widely consumed mushrooms in the world.
They have a mild flavor with a slightly earthy note and a velvety texture when cooked.
They're great when sauteed and served alone, or you can use oyster mushrooms in recipes the same way as you would white or button mushrooms.
Commercial growers harvest oyster mushrooms all year round, so as long as your local store or farmers market stocks them, they'll always be available.
Raw oyster mushrooms have 0.13oz (3.8g) of net carbs per 3.5oz (100g) serving.
Shiitake Mushrooms
Shiitake mushrooms are the main ingredient in many types of Asian cuisine and tend to be more expensive than oyster or button mushrooms.
They have a richer, more intense flavor than button mushrooms or portobellos, and you can find both fresh and dried shiitake in stores.
Their rich, meat-like flavor makes them an excellent substitute for meat in vegetarian dishes.
Raw shiitake mushrooms have 0.15oz (4.3g) of net carbs per 3.5oz (100g) serving.
Maitake Mushrooms
Maitake mushrooms are popular in Japan and China for their delicious taste and medicinal qualities.
But, they're sought-after by chefs worldwide for their earthy aroma and taste, unique texture, and sheer versatility.
Maitake is fabulous when sauteed and also tasty when roasted or even deep-fried for a satisfying crunch.
Raw maitake mushrooms have 0.15oz (4.3g) of net carbs per 3.5oz (100g) serving.
Enoki Mushrooms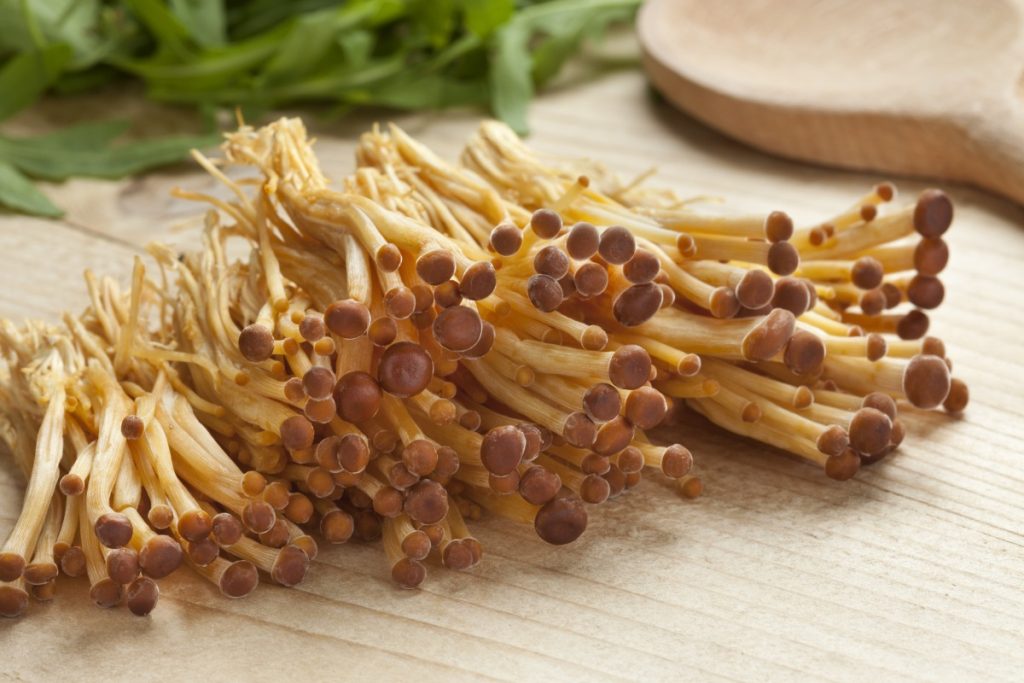 Enoki mushrooms have long thin stems and small caps and, like maitake, are also commonly used in Japanese and Chinese cuisine.
People enjoy their delicate flavor and firm, crispy texture raw in salads or lightly sauteed and often use them in soups, risottos and stir-fries.
Raw enoki mushrooms have 0.18oz (5.1g) of net carbs per 3.5oz (100g) serving.
5 Easy And Delicious Keto Mushroom Recipes
Here are five quick and easy keto mushrooms recipes to add flavor and variety to your diet.
1. Keto Portobello Mushroom Pizza
Portobello pizza is quick and easy with few ingredients and a delicious way to make stuffed mushrooms. Like pizza, you can choose different toppings. This recipe uses pepperoni slices and makes three servings, each containing 0.21oz (6g) of net carbs.
Ingredients
3 large portobello mushrooms, stems removed
½ cup marinara or pizza sauce
1 cup mozzarella cheese, shredded
12 pepperoni slices
1 tbsp olive oil
1 tbsp Italian seasoning
1 garlic clove, minced (optional)
Directions
Preheat the oven to 375 F (190 degrees C)
Line a baking sheet with aluminum foil.
In a small bowl, combine the oil, garlic, and half of the Italian seasoning.
Remove the gills from the portobello mushroom caps and quickly rinse them. Then pat them dry with a kitchen cloth or paper towel.
Brush the top of the caps with the garlic-oil mixture and place the mushrooms oiled side down on the lined baking sheet.
Fill each mushroom with a third of the pizza sauce, a third of a cup of mozzarella cheese, and four pepperoni slices.
Bake for 20 to 25 minutes, until the cheese has melted and the mushrooms are soft.
Sprinkle with remaining Italian seasoning and serve immediately
2. Keto Cream of Mushroom Soup
Homemade cream of mushroom soup is delicious, creamy and satisfying, and way better than anything you will find in a can.
You can put this easy low-carb soup together quickly for a warm, comforting meal or a tasty starter.
This recipe makes four servings, each containing around 0.28oz (7.9g) of carbs.
Ingredients
1 pound (454 grams) button mushrooms, cleaned and thinly sliced
½ small onion, chopped
4 tbsp butter
4 cups homemade chicken broth
1 tsp dried thyme
½ cup heavy cream
Salt and black pepper to taste
1 tbsp fresh thyme leaves for decoration (optional)
Directions
In a large pot, melt the butter over medium heat.
Add the onion and cook for 2 to 3 minutes.
Add the mushrooms and cook until they're tender and lightly browned, 4 to 5 minutes.
Add the chicken broth and dried thyme, cover, and simmer for 30 minutes.
Puree the soup using an immersion blender.
Stir in the heavy cream and season with salt and black pepper to taste.
Serve immediately sprinkled with fresh thyme.
You can make this recipe with your choice of mushroom but remember, the type of mushroom used will affect the carb count of your soup.
3. Keto Pork Cauliflower Fried Rice with Shiitake Mushrooms
This recipe is the perfect low-carb meal to cook when you're in the mood for Asian cuisine and this delicious, completely balanced meal will delight your taste buds.
It uses dried shiitake mushrooms, but you can also use fresh shiitake mushrooms if they're available.
The recipe makes six servings, each containing 0.35oz (9.9g) of carbs.
Ingredients
3 tbsp soy sauce
5 tsp rice vinegar
1 tbsp sesame oil
¼ tsp granulated Stevia or another low carb granulated sweetener
4 cups cauliflower florets
1 pound (454 grams) pork loin, diced
1 carrot, cut into small dices
3 dried shiitake mushrooms
4 eggs, beaten
3 scallions, sliced
4 tbsp grapeseed or coconut oil
Directions
Place the dried shiitake mushrooms in a bowl and cover with hot water.
Let the mushrooms soak for around 20 minutes or until the caps are tender. Then remove them from the water and slice. Set aside.
In a small bowl, combine the soy sauce, rice vinegar, sesame oil and sweetener. Set aside.
Place the cauliflower florets in a food processor and pulse until the mixture resembles rice.
Heat 1 tbsp of grapeseed or coconut oil in a wok over medium-high heat. Add the cauliflower "rice" and stir-fry for 5 mins or until softened. Remove the cauliflower from the wok and set it aside.
In the same wok, heat the remaining oil over high heat. Stir fry the carrots and mushrooms for 3 mins. Then add the pork and stir-fry until lightly browned and cooked through around 7 to 10 mins.
Push the mixture to the side of the wok and add the beaten eggs. Use a spatula to scramble the egg mixture.
Add the cauliflower "rice" and mix to combine. Then add the soy sauce mixture, mix well and cook for 1 minute more.
Sprinkle with scallions, season to taste and serve.
4. Six Ingredient Low Carb Chicken Marsala
This one-pan low-carb chicken marsala recipe is easy to make, has juicy chicken and classic wine flavors and looks impressive.
This recipe makes four servings, each containing 0.25oz (7g) of net carbs.
Ingredients
4 medium chicken breasts
10 oz (283g) portobello mushrooms (sliced)
1/2 cup marsala cooking wine
1/2 cup chicken broth
1 tbsp Arrowroot powder (optional)
1/4 cup butter (or ghee)
Sea salt and black pepper
Directions
Season both sides of the chicken breast lightly with sea salt and pepper.
Heat a tablespoon of butter in a pan over medium-high heat. Cook the seasoned chicken for 3 to 5 mins on each side until golden. Transfer the chicken to a plate and cover to keep warm.
Put another tablespoon of butter in the pan. Add the mushrooms and saute until the mushrooms are golden brown and their liquid has evaporated.
Add the Marsala wine to the mushrooms. Bring to a boil and simmer for a few minutes until the liquid reduces by half.
Wisk the arrowroot powder and chicken broth together in a small bowl. Add the remaining butter and chicken broth mixture to the pan and simmer, stirring, until the sauce thickens. The arrowroot powder is for thickening. You can leave this out for a thinner sauce.
Add the chicken back to the pan and cook until the chicken heats through, 1 to 2 mins.
Garnish with fresh parsley and serve
5. Easy Keto Mushroom and Vegetable Frittata
Frittatas make a nutritious breakfast, but they're also a quick, healthy meal or snack any time of the day.
This keto-friendly frittata reheats well and you can store it in the fridge for four days, providing an instant meal or snack throughout the week.
The recipe makes eight servings, each containing 0.07oz (2g) of net carbs.
Ingredients
2 tbsp Olive oil
1 and a half cups sliced mushrooms
1 cup bell peppers, cut into thin strips
1 cup zucchini, cut into quarter moons
8 large eggs
1/4 cup heavy cream
3/4 tsp sea salt
1/4 tsp black pepper
2/3 cup cheddar cheese, shredded
Directions
Preheat the oven to 350°F (176°C).
Heat the oil in a 10 inch (25 cm) cast-iron skillet over medium heat.
Add the vegetables. Saute for 6 to 10 mins, until they brown and soften and extra moisture has sizzled away.
In a large bowl, whisk together the eggs, cream, salt, and pepper.
Pour the egg mixture into the pan and add the cheese. Stir together gently.
Put the pan into the preheated oven immediately and bake the frittata for 15 to 20 mins, until the top is puffy but just set in the center. Don't let it brown.
Remove from the oven and cool for a few minutes before slicing.
Final Thoughts
Mushrooms are keto and also one of the healthiest low-carb foods you can eat on a keto diet.
To learn more about different types of mushrooms and how to cook and enjoy them, visit our Mushrooms Education Hub.
Or, if you're considering growing mushrooms at home to have an unlimited supply of delicious fresh mushrooms, our Mushrooms Growing Hub has helpful information.
One of the easiest ways to get started is with a mushroom growing kit.