If you enjoy popular types of mushrooms, you might wish you could have them more often. But it can be hard to think about ways to add more mushrooms to your diet, aside from just frying them up in some oil as a side dish. Or adding them as a pizza topping or incorporated into a pasta sauce.
But there's so much more that you can do in the kitchen with mushrooms and they're keto-friendly! There's burgers, salads, lasagna, stir frys, soups, pies, omelets, and more.
In this list I'll give you 30 of my favorite tried and tested mushroom recipes. In some of them, mushrooms are the main ingredient. While other times, they play a more supporting role. But the one thing they have in common is that they're all delicious!
Sauteed Mushrooms
https://www.spendwithpennies.com/garli-mushrooms/
I thought I'd start this list off with one of the classics. If you've eaten mushrooms aside from on a pizza or as an ingredient in a pasta sauce, then chances are that you've eaten sauteed button mushrooms.
You can make basic sauteed mushrooms with just butter or oil. This recipe goes a bit further and incorporates soy sauce, white wine, fresh thyme, and garlic.
The soy sauce enhances the natural savory flavor of the mushrooms and helps them to carmelize, but you can omit it if you're concerned about the extra sodium.
My biggest tip when making sauteed mushrooms is not to crowd the pan. Too many mushrooms in the pan at once will release too much water, and they will end up boiling in their own liquid instead of caramelizing.
Portobello Mushroom Lasagna
https://www.foodnetwork.com/recipes/ina-garten/portobello-mushroom-lasagna-recipe-1946968
This is a classic lasagna recipe, but with portobello mushrooms substituted instead of beef. You could also mix it up a bit and try substituting half ground pork or beef and half mushrooms.
As a baked dish, this recipe will take about two hours to make. Most of that won't be active work, but you'll need to plan ahead to give it enough time in the oven to fully cook.
Some people who have made this recipe did comment that it was a bit salty. So you may want to cut back on the amount of salt you add if you want a lower-sodium option.
Wild Salmon with Chanterelles and Roasted Kale
http://www.epicurean.com/featured/wild-salmon-with-chanterelle-recipe.html
Here is a recipe that will make you feel like you're out in the wilderness. In fact, it might be the perfect dish to make while you're camping or at the cottage.
Especially if you can find your own wild chanterelles and catch a salmon for some ingredients that would be truly next-level when it comes to freshness.
But even back at home, you'll love the texture and flavors of this dish. With just seven ingredients, it's not too difficult to whip up. Even on a weeknight if you're feeling fancy.
Not sure how to tell when your salmon is done? It should flake easily with a fork.
Salmon takes about four to six minutes per half-inch of thickness to cook. Four minutes will cook salmon until it's slightly rare, while six will cook it all the way through.
Wild Mushroom Pizza With Caramelized Onions, Fontina, and Rosemary
https://www.epicurious.com/recipes/food/views/wild-mushroom-pizza-with-caramelized-onions-fontina-and-rosemary-230633
You may have had mushrooms on your pizza before, but I bet you've never had them like this! You can make this recipe with any kind of mushrooms.
But for the full experience, I recommend getting as many different types as you can. Including the most health and nutritional oyster, shiitake, chanterelle, and any other favorite mushrooms.
This recipe calls for simmering your mushrooms in a wine reduction before they go on the pizza. This gives them a nice little bit of extra acidity and sweetness.
I would recommend using a pizza stone to cook your pizza if you've got one. But if not, you can use an upside-down baking sheet instead.
The key is to get your oven as hot as possible. Ideally at least 450 or 500 F.
If you are looking for more recipes, check these Oyster Mushroom Recipes.
Veal Ragu With Porcini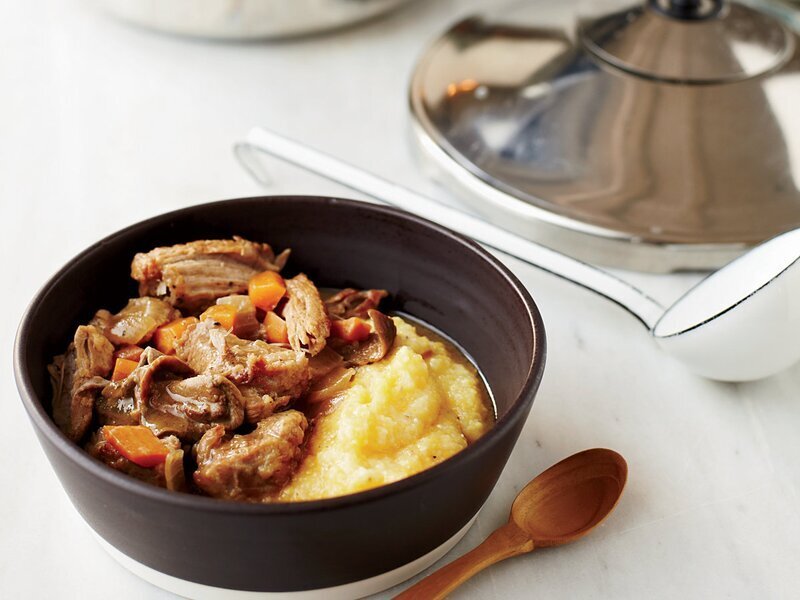 https://www.foodandwine.com/recipes/veal-ragu-porcini
A ragu is one of my favorite types of sauces, and this one is no exception. It goes great on pasta, polenta, or even rice.
It's not quite as saucy as a traditional ragu. In fact, this recipe doesn't even use tomatoes. But it's really nice, because that means the porcini mushrooms and veal are really the stars of this dish.
The carrots, onions, garlic, and sage still make an appearance though!
Use a pressure cooker to drastically reduce the amount of time this recipe takes to prepare.
Since it uses both white wine and white wine vinegar as its ingredients, this ragu naturally pairs really nicely with a full-bodied white wine.
Authentic Thai Recipe for Spicy Oyster Mushrooms with Sweet Basil
https://www.thaicookbook.tv/thai-recipes/main-dishes/spicy-stir-fried-oyster-mushrooms/index.php
For those craving an authentic Thai recipe that packs some heat, try this one! It calls for between six and eight hot chilies, but you can always scale back if that sounds like too much for you to handle.
Be sure to wash your hands thoroughly and avoid touching your eyes when working with Thai chilis!
The recipe calls for Thai sweet basil. But if you can't find any in your local shops, you can substitute standard basil for it. The Thai version just tends to have a flavor that's more stable when cooked.
Since this is a stir fry dish, it only takes about five minutes of prep and five minutes of cooking time to complete, and you'll only need to wash one pan afterward!
One Pot Creamy Mushroom Pasta
https://www.slenderkitchen.com/recipe/one-pot-creamy-mushroom-pasta
I'm not sure what it is with mushrooms and creamy soups or sauces, but it seems to always be a winning combination. This cheesy garlicky pasta is no exception.
The recipe calls for cremini mushrooms, but you can always substitute for portobello for a more meaty texture, shiitake for a stronger flavor, or porcini for a more authentic Italian taste.
Best of all, this recipe is designed to have about half the calories of a similar dish you'd find in a restaurant. So don't be afraid to go back for seconds, you'll probably want to!
If you or someone that you're cooking for is lactose intolerant, you can swap out the cream for almond, coconut, or soy milk. The texture won't be as creamy, but it will still taste delicious.
Cheesy Mushroom Skillet
https://www.delish.com/cooking/recipe-ideas/a26976122/cheesy-mushroom-skillet-recipe/
If regular sauteed mushrooms are a bit too dry or plain for you, here's something that's a bit more saucy. It features lots of garlic, red wine, and heavy cream for a really rich and delicious taste.
Works best with whole button or cremini mushrooms, but I'm sure you could use sliced portobello as well.
You can eat these mushrooms as a side dish on their own. Or take advantage of all of that sauce, and serve them over a steak or a grilled chicken breast.
Quinoa With Mushrooms
https://www.allrecipes.com/recipe/161695/quinoa-with-mushrooms/
If you're tired of rice or need something gluten-free, try cooking up your mushrooms with some quinoa (pronounced "Keen-wah.) This recipe is a great replacement as a side dish in place of a rice pilaf.
Quinoa is considered a superfood. It's high in protein and contains all nine essential amino acids.
Plus important minerals like magnesium and iron. It also has a low glycemic index. So unlike rice or wheat pasta, it won't cause your blood sugar to spike after a meal of it.
If you've never cooked with quinoa before, just be aware that you need to rinse it first.
The grain contains a natural coating called saponin that can make it taste soapy or bitter if you leave it on. But a quick rinse under the tap will help make sure it's all been removed.
Creamy Herb Mushroom Chicken
https://natashaskitchen.com/creamy-herb-mushroom-chicken/
Here's another creamy mushroom recipe that only requires one pot. Forget about cooking your chicken and mushrooms separately, just combine them and do it all at once in only 30 minutes!
Pair it with some pasta or mashed potatoes and you've got a real meal going. No added sauce or gravy needed.
You may want to cut your mushrooms a bit thicker than usual, because the chicken will need more time to cook.
I really enjoyed the dill flavor of this one. But if you're not a fan, you can add more parsley and green onions, or experiment with using a different herb combination of your own.
Grilled Beef and Mushroom Burger
https://www.simplyrecipes.com/recipes/grilled_beef_and_mushroom_burger/
Burgers are delicious whether they're beef burgers or mushroom burgers. But why should you have to settle for one or the other? With this recipe, you don't have to!
This burger combines ground beef and porcini mushrooms into a single patty. And if that isn't enough, it also has shiitake mushrooms as a topping as well, along with swiss cheese and sauteed onions.
Like with most of the mushroom recipes on this list, you can also mix things up and add morels, cremini, button mushrooms, or any other mushrooms you want.
Mixing in some mushrooms with your ground beef could be a great way to get some additional nutritious mushrooms into the diet of your kids too.
After the mushrooms have been through a food processor and fully incorporated into the beef, they'll hardly notice the difference.
Cream of Mushroom Soup
https://cafedelites.com/creamy-mushroom-soup/
Along with sauteed mushrooms, cream of mushroom soup is one of the first mushroom recipes that would come to mind for most people if you ask them. But this recipe is far from your average mushroom soup out of a can!
With thick slices of fresh button or cremini mushrooms, this hearty recipe is worlds apart from anything you could buy pre-made.
It's full of herbs, onion, and garlic that you also can't find in a bland can of soup.
Although this recipe calls for full cream, you can substitute evaporated milk, or even real milk if you're looking for something a bit lighter.
With milk, just be sure to heat the soup slowly or it could curdle. You can even leave out the cream and milk entirely for a dairy-free option.
The Best Seafood Stuffed Mushrooms
https://www.allrecipes.com/recipe/143649/the-best-seafood-stuffed-mushrooms/
Admittedly, I'm not the biggest seafood fan. But I do enjoy sharing a plate of stuffed mushrooms if I'm out at a seafood restaurant. These are a great alternative that you can make at home as an appetizer.
The flavor and texture of the snow crab and shrimp are largely masked by the mushroom, garlic, bread crumbs, and cheese. So even those who aren't big on seafood can still appreciate these little morsels.
Best enjoyed right out of the oven while they're still piping hot.
Garlic Mushrooms
https://cafedelites.com/garlic-mushrooms/
This recipe is a nice twist on the standard sauteed mushrooms. Instead of slicing the mushrooms which is typical, you leave the mushrooms whole.
It will work best with the smallest baby button mushrooms you can find, but cremini will work fine too.
Like the name suggests, these mushrooms feature a buttery herb sauce that's rich in garlic flavor. They're soft and juicy, and will melt in your mouth.
You can pair these mushrooms with pretty much any type of protein. They'll go well with a roast chicken or pork as well as steak.
Optionally, you can add a little white wine to give the dish a little extra acidity if desired.
Mushroom Stir Fry with Peas and Green Onions
https://www.simplyrecipes.com/recipes/sweet_and_spicy_mushroom_stir_fry/
If the authentic Thai recipe I described earlier seems a bit too spicy for you, give this Chinese-inspired mushroom stir fry a taste instead.
The recipes still suggest including 2 to 5 dried red chillis. But if you don't want the spice, you can omit them entirely.
That will allow you to focus on the flavor of the peas and green onions instead. As well as the honey, which adds a little hint of sweetness to the dish.
Like the other stir fry, this recipe is quick to cook up and will only take about 15 minutes from start to finish. Although it contains 17 ingredients, which makes it a little more complicated to prepare.
Gourmet Mushroom Risotto
https://www.allrecipes.com/recipe/85389/gourmet-mushroom-risotto/
An authentic Italian-style risotto that's guaranteed to warm both your heart and your stomach.
The perfect risotto should be cooked until it's al dente. Cooking risotto the authentic way is a bit of a labor-intensive process and can't be easily put into a standard set of instructions in my opinion.
Instead, I would use this recipe as a guide and then use your best judgment. For a really creamy risotto, you want to slowly add broth to the rice a little bit at a time, and stir until it gets fully absorbed.
Keep repeating until the rice has absorbed about as much moisture as it can, but isn't mushy. The rice should start to break down with the sauce a bit and add a creamy consistency and texture.
Creamy Mushroom Spinach Orzo
https://damndelicious.net/2018/04/21/creamy-mushroom-spinach-orzo/
What's the difference between risotto and orzo? Orzo is a type of rice-shaped pasta, which can be used to make risotto. But not all risottos contain orzo, as with our last recipe which uses arborio rice instead.
This recipe is one that uses orzo, but it's also not a risotto. You can think of it more like a pasta dish, although the pasta is tiny and rice-sized.
It's cooked in a creamy parmesan sauce, with lots of spinach and mushrooms, and topped with freshly grated Parmesan cheese.
Makes a perfect vegetarian side dish. Or to turn it into a whole meal, try doubling the recipe and adding in some strips of chicken, pork, or beef.
Mushroom Pot Pie
https://www.savorysimple.net/mushroom-pot-pie/
For a long time, I was a bit afraid to try making any kind of pie or recipe that was topped with a flaky crust. It always seemed a bit complicated. But after giving it a try, I can tell you that it's easier than you might think.
This mushroom pot pie is a great recipe to start trying out your puff pastry crust skills with.
The little ramekins will provide most of the structure for the dish, so you just have to create a pastry lid for all of the ingredients. Easy enough, right?
These pies are full of all kinds of flavors including celery, carrots, onion, paprika, thyme, parsley, and more. The recipe calls for brandy, but you can also substitute a dry white wine like a chardonnay if you prefer.
And if you're not a vegetarian, I'd swap out the vegetable stock for chicken stock to give it an even more savory flavor.
King Trumpet Yakitori
https://www.epicurious.com/recipes/food/views/king-trumpet-yakitori-56389994
These little skewers are simple, fast, and easy to make. They add a bit of Asian flair to any meal with flavors heavy in soy sauce, sake, and mirin.
What's mirin, you might ask? It's a tangy rice wine commonly used for making homemade teriyaki sauce. If you don't have any, you can substitute in a sweet marsala wine or some dry sherry instead.
A regular rice vinegar or dry white wine will do too, but you'll want to add a bit of sugar to counteract the sourness.
You might not be able to find king trumpet mushrooms near you either. If not, you can use shiitake caps instead.
Creamy Beef and Mushroom Stroganoff
https://cafedelites.com/creamy-beef-and-mushroom-stroganoff/
Taking a break from the Italian and Asian-inspired dishes for a moment, here's one from Russia.
The creamy savory goodness of a beef and mushroom stroganoff is hard to underestimate. It's definitely a real comfort food.
This recipe steps things up from the beef stroganoff that your mom probably made as a kid. It doesn't use any packets of seasoning or cans of ready-made mushroom soup.
It's made completely from scratch, and is up there with something you'd expect to find in any restaurant.
You can use whatever cut of beef you prefer for this recipe, but I recommend going with something tender like a sirloin or tenderloin. And of course it wouldn't be a true stroganoff without sour cream.
The recipe just makes the beef stroganoff, you'll still need to find something to serve it with. My favorite is egg noodles.
But it also goes great over rice or pasta. For a carb-free alternative, try zucchini noodles or spaghetti squash!
Maitake Noodle Bowls
https://www.finecooking.com/recipe/maitake-noodle-bowls
This bowl is as fresh and healthy as it looks! With garlic, ginger, coriander seeds, star anise, radishes, scallions, carrots, and cilantro, there are a lot of very bold and complex flavor combinations going on here!
That doesn't take away from maitake mushrooms also being a big part of the dish either though.
They bring their own meaty umami flavor to the dish. The udon noodles really add some bulk to the dish and round it out with some carbs.
You'll be sipping every last drop of the rich broth from this bowl.
Mushroom Pierogi
https://www.marthastewart.com/333233/mushroom-pierogi
Pierogis are kind of like pizza for me. I love them, no matter what toppings or fillings they're served with!
Whether they're stuffed with potato, cheese, bacon, ground meat, or even saurkraut, I can eat about as many pierogis as you can set in front of me!
Whether you use white, shiitake, or cremini, these mushroom pierogis are an interesting change from the more common fillings.
The savory mushroom flavor works really well with the fried dough of pierogis.
Like all pierogis, they go best when topped with some sour cream and browned onions!
Cheesy Mushroom Omelette
https://www.bbcgoodfood.com/recipes/cheesy-mushroom-omelette
Who says mushrooms don't go well for breakfast? Aside from the classic full English breakfast, you usually don't see mushrooms on people's plates before noon.
But if mushrooms don't at least occasionally make a cameo at your breakfast table, you're missing out!
This recipe for cheesy mushroom omelets is a great way to start adding mushrooms into your morning routine.
It's a pretty simple recipe that just calls for eggs, parsley, cheddar cheese, button mushrooms, and a bit of olive oil.
Once you give it a try as-is a few times, you can experiment with adding some other ingredients too.
May I suggest some sweet bell peppers, or maybe some chopped ham?
Baked Parmesan Mushrooms
https://damndelicious.net/2014/03/26/baked-parmesan-mushrooms
Believe it or not, mushrooms don't just have to be cooked on your stovetop. They can go into your oven as well!
It's a great alternative if you don't want to be constantly stirring or checking on a pan full of mushrooms.
These ones have a nice lemony, thyme, and parmesan flavor.
If you already have the oven heated up for your main course, why not just pop these baked parmesan mushrooms in about 12 to 15 minutes before it's done for an easy side dish?
Buffalo Chicken Low Carb Stuffed Mushrooms
https://mylifecookbook.com/buffalo-chicken-low-carb-stuffed-mushrooms/
Here's a great recipe for people who really aren't fans of seafood, so they passed on the seafood stuffed mushrooms recipe earlier in this list.
If you're on a keto or low-carb diet, you'll love these mushrooms.
Only 2 grams of net carbs per five of them! But they're just naturally low-carb, they don't sacrifice taste for the sake of healthiness.
Smaller portobello caps will work best, and provide more individual-sized portions. Just scoop out the gills and fill them up!
Grilled Hen-of-the-Woods Mushrooms with Sesame
https://www.foodandwine.com/recipes/grilled-hen-woods-mushrooms-sesame
Some of the recipes on this list just use mushrooms as minor ingredients. If you're really looking for a dish where fungi is front and center, then this is the one for you.
Keep things simple with just a couple pounds of maitake mushrooms, olive oil, sesame seeds, parsley, salt and pepper, and lime wedges for serving with. It really lets you enjoy the earthy, mushroom flavor in all its glory.
Typically you'd tear maitake mushrooms into smaller pieces when cooking and serving them. But leaving them in tact creates a beautiful and almost floral arrangement on the plate.
This is one for mushroom-lovers who want to really experience the pure flavor of maitake.
Mushroom Quiche
https://www.simplyrecipes.com/recipes/mushroom_quiche/
Another mushroom recipe with a crust!
If you want to take the easy way out, you can buy a pre-made frozen pie crust. But this recipe gives you everything that you'll need to make a crust of your own from scratch.
It's definitely the preferred way to go if you want to experience the best that this dish has to offer.
Be sure to sautee your mushrooms long enough to get most of their water out of them. Otherwise, the crust of your quiche might end up soggy if it's left for too long before eating.
For a more mild taste, go with button mushrooms. Or opt for shiitake if you want a really bold mushroom flavor from your quiche.
Mushroom and Chevre Souffle
https://www.foodandwine.com/recipes/mushroom-and-chevre-souffles
If a quiche isn't your thing, perhaps a mushroom souffle is more your style.
Souffles are notoriously hard to get just right, since having them rise and not collapse back down into themselves can be a challenge. But if you follow this recipe exactly, I believe that you can do it!
You just may want to try them for yourself a couple of times to make sure that you've got all the kinks worked out, before you make them the main dish for your next big dinner party.
What's chevre, you might be wondering? It's just a fancy word for cheese that's made from goat's milk.
Simply Delicious Mushroom Meatball Soup
https://www.food.com/recipe/simply-delicious-mushroom-meatball-soup-342688
The look of this mushroom meatball soup recipe reminds me a bit of ramen in terms of how it looks. But there's no soy sauce or miso here. Beef broth, milk, and sour cream make up the liquid.
It packs a full two pounds of fresh chopped mushrooms.
Plus meatballs made from ground sirloin, bread crumbs, egg, and spices.
It's a great dish combining ground beef and mushrooms, if the grilled beef and mushroom burger from earlier on this list isn't quite your thing.
Warm Chicken and Sautéed Mushroom Salad
https://www.myrecipes.com/recipe/warm-chicken-sauteed-mushroom-salad
Of course, what mushroom recipe list would be complete without a good salad? Personally I prefer my mushrooms cooked instead of raw, even on a salad. So this salad is just what I crave.
Between the pine nuts and mushrooms, it's got some textures that you don't normally get from an average salad that just has some basically vegetables chopped up and mixed in.
There's no need for any extra salad dressing either.
This recipe includes your own dressing that you can make with olive oil, balsamic vinegar, and dijon mustard.
Conclusion
Change things up this week by adding one of these mushroom recipes to your dinner (or lunch, or even breakfast in some cases!)
We all know that mushrooms are healthy and nutritious food. But it can be hard to get them into our diet regularly, instead of just a once and a while kind of ingredient.
After reading over this list of my 30 favorite mushroom recipes, I hope you're inspired to try some of them out for yourself. There's so much more you can do with mushrooms besides just sauteeing them. You can check these 25 of the best vegan mushroom recipes for learning more ways of how to cook them.
So give a mushroom burger, stir fry, or soup a try. You won't regret it!
We also receive a lot of questions about mushrooms storing and preparing them for cooking. The answers to the most common questions about mushrooms you can find here: